Update (May 16, 2011): The proposed Anti-Homosexuality Bill was not voted on Friday as expected. The bill or an amended version of it was adjourned and be back during the next parliament sitting, which is expected to begin in June, Human Rights Watch (HRW) said. It would however have to return to the beginning of the legislative process, the organisation said.
"Today marks the end of a chapter in the fight to protect the rights of the LGBT community in Uganda but the struggle isn't over yet," Graeme Reid, director of the Lesbian, Gay, Bisexual, and Transgender Program at HRW was quoted as saying in a CNN report. "There's a real danger we might see this bill remerge in some form."
Media statement issued by Human Rights Watch May 12, 2011: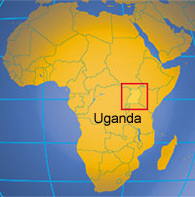 The Ugandan parliament's Legal and Parliamentary Affairs Committee has regrettably recommended passage of the proposed Anti-Homosexuality Bill, including retaining the death penalty for "aggravated homosexuality," Human Rights Watch said today. The committee's report, as seen by Human Rights Watch, recommends amendments deleting some provisions but adding criminal penalties for "conduct[ing] a marriage ceremony between persons of the same sex."
The committee's report is likely to be presented to parliament on May 13, 2011, as part of a debate before the bill could be up for a vote. Such reports are required under parliamentary procedure. The committee said that it consulted with several key stakeholders in generating its recommendations, including civil society, government agencies, including the Justice Ministry, Uganda Law Reform Commission, prisons, and the Uganda Human Rights Commission. It is not clear how many committee members participated in drafting the report. At consultations attended by Human Rights Watch only three of the committee's 20 members were present.
"It should be scrapped. The committee's recommendations fall wholly short of making this a bill worth parliament's time," said Graeme Reid, director of the Lesbian, Gay, Bisexual, and Transgender (LGBT) Program at Human Rights Watch. "Even if these suggestions are taken on board, the bill will remain discriminatory, a profound threat to Uganda's LGBT community and put Uganda at odds with its fundamental human rights obligations."
Uganda's Anti-Homosexuality Bill
(Read full text here.)

3. Aggravated homosexuality.

(1) A person commits the offense of aggravated homosexuality where the

(a) person against whom the offence is committed is below the age of 18 years;

(b) offender is a person living with HIV;

(c) offender is a parent or guardian of the person against whom the offence is committed;

(d) offender is a person in authority over the person against whom the offence is committed;

(e) victim of the offence is a person with disability;

(f) offender is a serial offender, or

(g) offender applies, administers or causes to be used by any man or woman any drug, matter or thing with intent to stupefy overpower him or her so as to there by enable any person to have unlawful carnal connection with any person of the same sex,

(2) A person who commits the offence of aggravated homosexuality shall be liable on conviction to suffer death.

(3) Where a person is charged with the offence under this section, that person shall undergo a medical examination to ascertain his or her HIV status.
The committee proposes amendments to the October 2009 draft bill. Despite the suggestion by the bill's author, David Bahati, that the death penalty could be deleted from the legislation, the committee recommends retaining it. The committee proposes rewording the provision to align with the current Penal Code provision on "aggravated defilement," which is punishable by death.
Some recommendations integrate concerns raised by Ugandan and international human rights groups. The committee states that provisions criminalizing "attempted" homosexuality should be removed, rightly stating such allegations would be very difficult to prove, Human Rights Watch said. The committee also recognizes that provisions requiring anyone who knows of homosexual conduct to report to police within 24 hours would create "problems especially to professionals whose ethics include confidentiality in order to be able to carry out their functions like Doctors, Lawyers and Counselors."
The committee also suggests removing the clauses on extra-territorial prosecution of homosexuality and on nullifying Uganda's international human rights obligations to the extent that they contradict the Anti-Homosexuality Bill.
The committee recommends the creation of an additional crime, "conduct[ing] a marriage ceremony between persons of the same sex," punishable by three years in prison, which was not in the original draft. It also suggests deleting the crimes of "aiding and abetting homosexuality," and "conspiracy to commit homosexuality," but including a penalty of seven years in prison for "procuring homosexuality by threats." The committee did not comment on the current proposed provision criminalizing the "promotion of homosexuality," which would jeopardize the legitimate work of national and international activists and organizations working to defend and promote human rights in Uganda.
---
Proposed bill has drawn widespread international condemnation since 2009
Homosexuality already illegal in Uganda
Homosexuality is already criminalised under existing laws, and in some cases is punishable by life imprisonment. The proposed bill would impose:
- the death penalty for "aggravated homosexuality" in cases of rape of a minor by a person of the same sex, or where one partner carries the virus that can cause AIDS.
- three-year prison sentence for anyone who is aware of evidence of homosexuality and fails to report it to the police within 24 hours.
- up to seven years for anyone who defends the rights of gays and lesbians.
World leaders including US President Barack Obama and US Secretary of State Hillary Clinton have condemned the proposed bill, which was first introduced in 2009. Describing the measure as "odious", the US State Department on Thursday called on the Uganda legislature to reject the proposed bill, CNN reported.
"No amendments, no changes, would justify the passage of this odious bill," State Department spokesman Mark Toner told reporters. "Both (President Barack Obama) and (Secretary of State Hillary Clinton) publicly said it is inconsistent with universal human rights standards and obligations."
"We are following this legislative process very closely," Toner said. "Our embassy is closely monitoring the parliament's proceedings and we also are in close contact with Uganda's civil rights and civil society leaders, as well as members of the (lesbian, gay, bisexual and transgender) community there."
Australia has added its voice to global criticism of the proposed bill with Foreign Minister Kevin Rudd saying his country had conveyed its deep concerns to the Ugandan Acting High Commissioner in Canberra.
"We have expressed the government's condemnation of the content of the bill," Rudd said in a statement released late Thursday. "Australia is a global advocate in support of non-discrimination on the grounds of sexual orientation and will continue to take opportunities through the United Nations and other channels to urge all governments to end such discrimination."
---
Links to American evangelical groups
The bill's author, David Bahati and anti-gay organisations in Uganda, have been found to be linked to American evangelical groups who have been operating in the country for some years. The public and lawmakers have been told that gay men were recruiting their school children for sex, and that NGOs and gay rights groups are promoting a Western "gay agenda" that aims to destroy the Ugandan family unit.
Jeff Sharlet, an investigative journalist and author of The Family: The Secret Fundamentalism at the Heart of American Power – about a US-based religious and political organisation, met and interviewed David Bahati for an article published in Harper's Magazine in September 2010.
Sharlet says he visited Kampala at the invitation of Bahati who had told him: "If you come here, you'll see homosexuals from Europe and America are luring our children into homosexuality by distributing cell phones and iPods and things like this.
"And he said, 'And I can explain to you what I really want to do.'"
That is "to kill every last gay person," Bahati told the journalist.
Mariana van Zeller, a Peabody Award-winning Portuguese journalist and correspondent for the Vanguard documentary series on Current TV travelled to Uganda and found evidence of a growing influence of American religious groups has led to a movement to further criminalise homosexuality.
Her 40-minute documentary Missionaries of Hate documented the visit by American Evangelical Lou Engle's to Uganda in May 2010 to support the major backers of the proposed legislation. van Zeller also interviewed "kill the gays" bill author MP David Bahati; Pastor Martin Ssempa, one of the most famous religious leaders in Uganda, whose preaching methods include showing gay pornography in church; and Ugandan citizens (both gay and straight) about their feelings on homosexuality and the proposed laws.