Both sides in the Dharun Ravi case are now appealing its outcome.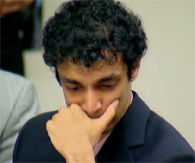 Dharun Ravi in court
According to
media reports
, Ravi's attorney, Steven Altman, has
filed a notice
outlining his intention of appealing Ravi's March 16 conviction, and challenging the constitutionality of the bias intimidation law under which the former Rutgers freshman was convicted.
The prosecution has earlier appealed Ravi's 30-day sentence. Prosecutors want Ravi sent to state prison rather than county jail, though not necessarily the 10-year maximum sentence he faced for bias intimidation.
Ravi was convicted of all 15 charges for bias intimidation, invasion of privacy, hindering his own apprehension and tampering with evidence for spying on his roommate, Tyler Clementi, with a webcam during an intimate encounter with a man in September 2010 and then tweeting about what he saw and inviting others to watch a planned second encounter.
Clementi, 18, committed suicide by jumping off the George Washington Bridge days after the incident. Ravi, 20, was not charged with causing Clementi's death.
Ravi faced up to 10 years in prison on the second degree bias counts, but Superior Court Judge Glenn Berman sentenced him to 30 days in the county jail, three years probation and 300 hours of community service. The judge also ordered him to undergo counseling and contribute US$10,000 to a state-licensed, community-based organization dedicated to assisting victims of bias crimes.
Ravi began serving his jail term on May 31, two days after apologising in a written statement.
"I accept responsibility for and regret my thoughtless, insensitive, immature, stupid and childish choices that I made on September 19, 2010, and September 21, 2010," Ravi said in the statement.
"My behavior and actions, which at no time were motivated by hate, bigotry, prejudice or desire to hurt, humiliate or embarrass anyone, were nonetheless the wrong choices and decisions. I apologise to everyone affected by those choices."
Middlesex County First Assistant Prosecutor Julia McClure told the judge during the hearing May 30 that she wanted Ravi sentenced to five years in state prison.
While some LGBT activists expressed shock at Dharun Ravi's 30-day jail sentence saying the sentence is too light to deter bullying, the case also outlined divisions among legal experts and gay advocacy groups over the wisdom of using prosecution to combat anti-gay prejudice.
Judge Berman has defended his decision saying the sentence "was fair, it was appropriate, and most of all, it was consistent." "I can't find it in me to remand him to state prison that houses people convicted of offenses such as murder, armed robbery and rape."
He argued that the Legislature intended prison terms to be attached to bias crimes that were "assaultive or violent in nature," not invasion of privacy.
"Hate crimes are tricky," said Marc Poirier, a professor at the Seton Hall University School of Law, who has studied bias-intimidation laws, was quoted as saying in the NY Daily News. "If you don't define them narrowly, it looks like you are punishing people for what they say or what they thought."
Poirier, who is openly gay, observed that there was no violence or threat of violence against Clementi or his romantic partner. Poirier said he couldn't find another reported case that had treated invasion of privacy as a bias crime. A harsher sentence would have been inappropriate, he said.
In May, a Reuters report quoted Aaron Hicklin, editor of Out magazine, as saying: "Ravi was convicted because Clementi is dead," Hicklin wrote, adding that the suicide "left us reaching for simplistic answers where there are none."
"Ravi's conviction was a compelling signal that harassment and bullying of LGBT (lesbian, gay, bisexual and transgender) people carries penalties," Hicklin said in an article arguing that Ravi be set free.
"Yet the verdict also left a bitter aftertaste, as if what was being satisfied was not justice, but revenge."
Similarly, Andrew Sullivan, a gay blogger for The Daily Beast, said the hate crime charges, without which Ravi would likely get probation and no prison time, were "tenuous" and "repellent." "This was a bigoted online hazing, followed by a judicial witch-hunt," Sullivan wrote.
Jim McGreevey, the gay former governor of New Jersey, and Dan Savage, a gay columnist, are others who say that Ravi's behaviour, while wrong, is being dealt with too harshly.
E.J. Graff, who writes about gay and lesbian issues, said in her column in The American Prospect, "I fear that Ravi is an easy scapegoat for a complicated problem."