The Education Ministry-endorsed "guidelines" to "help" parents identify gay and lesbian "symptoms" in their children so they can take early corrective measurements has been slammed all round by activists and members of the LGBT community as the news was carried by online news websites today.
The guidelines warn: "Once the children have these symptoms, immediate attention should be given."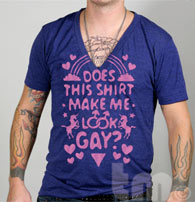 It lists the following as "symptoms of gays":
- Have a muscular body and like to show their body by wearing
- V-neck and sleeveless clothes;
- Prefer tight and light-coloured clothes;
- Attracted to men; and
- Like to bring big handbags, similar to those used by women, when hanging out.
And "symptoms of lesbians":
- Attracted to women;
- Besides their female companions, they will distance themselves from other women;
- Like to hang out, have meals and sleep in the company of women; and
- Have no affection for men.
According to online reports, the guidelines were reportedly launched and distributed to some 1,500 audience members comprising teachers and parents who attended a "Parents in Curbing LGBT (lesbian, gay, bisexual and transgender) Issue" seminar. It was organised by Yayasan Guru Malaysia Bhd, a non-profit group for educators, and officiated by Deputy Education Minister Mohd Puad Zarkashi in Penang on Wednesday. The guidelines were published by Yayasan Guru Malaysia, and Putrajaya Consultative Council of Parents and Teachers Associations, and were endorsed by the Education Ministry.
The seminar is said to be the 10th in the country and Penang is the fourth state to hold such a seminar, after Selangor, the Federal Territory of Kuala Lumpur and Perak.
The Sinchew news site quoted Mohd Puad as saying that said teachers and parents should be exposed to discern the social symptoms of lesbian, gay, bisexual and transgender (LGBT) lifestyles to curb such problem among youths at school. He added that the number of communities, teachers and parents who did not understand about symptoms were still high. "Such exposure is important and it is high time the LGBT issue is discussed openly and not think of it as a taboo," he was quoted as saying.
Seksualiti Merdeka co-founder Pang Khee Teik called the Ministry of Education "officially a bully," and offered to provide guidance to "poorly educated" education officials through his organisation. He told Free Malaysia Today that the ministry should instead focus on other LGBT issues such as suicide, forced marriages, depression and bullying. "It must stop this inhuman campaign against vulnerable children," he said. "It should teach all children to be confident and to respect each other no matter who they are."