Although Adam Lambert's previous two performances in the country were not rated by the Media Development Authority (MDA), his concert this Friday has been rated "Advisory 16 and above". The Authority explained on its website: "The concert has been given an Advisory rating for those 16 and above with the consumer advice, 'Some Mature Content' as it will feature 2 songs from Adam Lambert's audio album, 'Trespassing' – 'Outlaws of Love' and 'Shady' whose lyrics are based on the singer's personal experiences and lifestyle."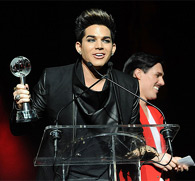 Adam Lambert receiving the Unity Award by the We Are Family Foundation last month.
Last week, the local media reported that the MDA said it had received feedback from some members of the public, who "expressed concern" over the concert as did the National Council of Churches (NCCS), which represents 200 churches in Singapore.
NCCS general secretary Lim K Tham told the Straits Times that the council had received a complaint from a Christian that "the gay lifestyle may be promoted at the concert, and that the concert venue is owned by a church".
The Star Performing Arts Centre, where the concert is slated to take place, is fully owned by the New Creation Church (NCC) under its business arm, Rock Productions.
When contacted by Fridae, the NCC declined to comment.
A "special announcement" published on Feb 9 on the church's website states that the performing arts centre operates "its business independently from NCC with a strict arms-length policy in place" and "on a purely commercial basis and will not implement any leasing or pricing policies that will discriminate between religious groups, institutions or organisations from hiring the venue."
It goes on to state: "Any event or concert presented at The Star PAC should not be misconstrued or misunderstood as having NCC approving of its artistic presentation or endorsing the lifestyle of the performer."
Lambert, who is said to be the first openly gay male artist to top the Billboard album charts last year with "Trespassing", was honoured with the Unity Award by the We Are Family Foundation last month in recognition of his collaborations with The Trevor Project, Equality California and the Gay and Lesbian Alliance Against Defamation (GLAAD) among other organisations. Founded by legendary songwriter and producer Nile Rodgers, it's dedicated to the vision of a global family by creating and supporting programs that inspire and educate people about respect, understanding, and cultural diversity.