When Cory Monteith, a celebrity beloved by the LGBT community for his role in the television series Glee, died of an overdose a few weeks back, the circumstances were all too familiar. Monteith had struggled with legal and illegal substances from age 13, and after an intervention by family and friends, entered drug rehabilitation at age 19. He died at age 31.
Studies have repeatedly shown that gay men are far more susceptible to substance abuse compared to their straight counterparts. Additionally, they face a host of perceived and real barriers—from embarrassment and shame to homophobia among health providers—that often prevent them from accessing mainstream drug and alcohol support services should they need to.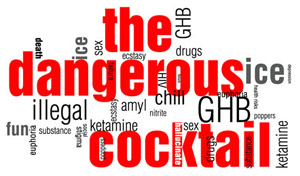 Getting caught up in a personal identity crisis, trapped in the party culture, or experiencing a tough time reconciling his identity with his family, a gay man grappling with substance abuse is often mired in a web of complications that can seem impossible to untangle.
In Singapore, sex between men is illegal, largely unenforced these days but still punishable by up to two years' jail time. Drugs remain highly illegal, and dealing in them in large quantities can trigger the death penalty. Yet arrests for illegal drug possession are up in Singapore, and drugs can be had easily in neighbouring Asian countries.
Meanwhile, legal substances are widely available— starting with alcohol.
On a sultry Friday night at one of the gay clubs in Singapore's Chinatown district, crowds form early to take advantage of the Liquid Buffet—all you can drink for free (that is, after paying the cover charge to get in) until the clock strikes midnight. The weekend has begun, and it is party time—and the lubricating effect of free-flowing alcohol and the exhilarating release that comes with it kick in fast.
Underneath cut-out art-deco chandeliers and the leopard-print motifs covering the walls and the tight-fitting bartenders' shirts, the dance floor and bar fill quickly with pounding music, joyous laughter, and friendly chatter.
While the alcohol is easier to see, both drinking and drug-taking are seemingly inevitable for a population whose methods of socialising largely revolve around nightclubs and bars.
Turning to drugs to cope with family and societal rejection is an old story among the gay population. If men going to clubs are beset by fears such as getting found out or being arrested, substance abuse can seem like a logical way of letting go of that fear for a few hours and just being happy with who they are.
Take Marcus, for example, a 25-year-old who works in a sales retail job in Singapore. When he meets other gay men through any number of available phone apps and chats online, some potential sex partners will say they are looking for "normal" fun. Others will say they want cf—"chill" fun.
Chill fun means drugs, maybe ice or ecstasy. Frequently followed, when it's time for normal fun, by Viagra or another male performance booster.
Marcus will opt for chill fun when he's in the mood. "The main purpose I'm doing this stuff is my life is very stressed, really," said Marcus (not his real name). "Every gay man, involved with this kind of thing, they usually have their own stress, which they can't solve themselves."
The fact that drugs often go hand in hand with sex makes for a dangerous concoction that is damaging to the well-being of the community.
"A lot of the drugs used in the community, they're not used in isolation," said Bryan Choong, Centre Manager of Oogachaga Counselling and Support, a gay and lesbian affirmative counselling agency in Singapore. "It's usually part of the sexual activity."
Synthetic drugs, or party drugs, are popular on the gay party circuit. Drugs like ecstasy are used to get high, sometimes taken with other controlled drugs such as ketamine and methamphetamine, or the pain-killer paracetamol, which some gay men mix with cough mixtures and alcohol when they run out of the party drugs.
Another dangerous drug that has made the party scene in the UK and Australia and recently in Singapore is GHB (Gamma-Hydroxybutyric Acid). This is a clear liquid that can produce feel-good, euphoric effects similar to ecstasy, and is marketed by drug dealers as "Liquid Ecstasy".
It is abused as a "date rape" drug that renders the victim powerless and in a drunken stupor. When mixed with alcohol, it can cause a total blackout and collapse of the respiratory system, making it potentially deadly.
Drugs are popular among gay men because they can amplify the senses, creating an energy rush and feelings of euphoria. They offer an escape from the feelings of shame and isolation that gay men often feel, lower inhibitions, and can dramatically enhance sexual pleasure. When ketamine and ecstasy pills are taken together, users often hallucinate and experience images as though in an alternate reality like a dream that they trigger via their thoughts, imagination and trance music.
Drugs, or too much of them, can mimic Shakespeare's famous observation about drink —"it provokes the desire, but it takes away the performance." And so Viagra and other erectile dysfunction drugs are commonly added to the mix to boost performance. Amyl nitrite (poppers) may be used to enhance and prolong orgasms, or just to enjoy a headrush in a non-sexual context such as while dancing.
The result can be a dangerous, even deadly, cocktail. Many gay men become addicted to the combination of sex and drugs, and can be oblivious to the high risk of HIV, syphilis, and other sexually transmitted diseases. They may ignore the psychological effects that can result as well such as mood swings, aggressive behaviour, paranoia, and depression.
The well-publicised death of Wong Teck Siong, 28, on 3 April 2011, from drug-fuelled sex, illustrates not only the dangers of mixing sex and drugs, but the hidden world in which the combination thrives. His lover, knowing he had committed two punishable crimes—illegal drugs, and sex with another man—did not report the death, and disposed of his body in a trolley bag that he dumped into the waters off Sentosa.
Such utter desperation speaks to the lack of places for gay men involved in drugs to turn to. "The thing about people who are addicted to drugs and sex, there is a huge level of secrecy," Choong said. "You are very resistant to telling people what you are going through, and this affects your help-seeking behaviour. Especially when it comes to drugs, because it's illegal. "
There are substance abuse counselling services such as Oogachaga and health advocacy services Action For AIDS. For those struggling with alcohol abuse, the local Alcoholics Anonymous chapter has separate Rainbow meetings with a focus on the LGBT community. But the social stigma to accessing them in socially conservative places like Singapore has traditionally kept many gays, along with their problems, in the closet.
Perhaps help is limited too, because so is information about the gay community and its problems with drugs.
"Let's be honest, we don't have local data that reflect what is the severity of drug abuse or substance abuse in Singapore," Choong said. "Even if you do an online survey, very few people will give you a very honest answer. The biggest challenge is that we don't have a very accurate drug study on the situation in Singapore right now."
For hardcore drug abusers, there is the risk of HIV from IV drug use. One issue here is that AIDS is now seen as a relatively manageable disease. Where older gay men watched their friends die a horrible death in the 1980s, younger gay men grew up watching Magic Johnson and likely many in their personal lives manage their illness for years without getting sick -- at least in front of them. What they are less aware of are the financial implications, social stigma, and myriad of other health risks associated with a reduced immune system from a HIV-positive status.
Young people experimenting with drugs largely are unaware of the risks of HIV infection, and those who become infected often wait until late stages before getting tested. "There's a clear association between recreational drugs and HIV," said Roy Chan, president of Action for AIDS in Singapore.
Another compelling reason to increase awareness is that a zero-tolerance approach to drugs and mandatory aftercare may not be enough to reach those who are at-risk.
Singapore's Central Narcotics Bureau arrested 3,507 people for drugs in 2012, an increase of 5 percent from the 3,326 arrested in 2011, according to a media statement. Repeat abusers in 2012 continued to form the majority of abusers arrested, at 69 percent, an increase of 10 percent from 2011.
Heroin and methamphetamine remain the most commonly abused drugs—about 93 percent, of all drug abusers arrested abused either heroin or methamphetamine, the statement said. The CNA reported a worsening drug situation in 2012, with drug production figures in the region setting record highs and international syndicates making inroads into the region, even as countries work to fight both supply and demand.
Singapore's Health Promotion Board, meanwhile, encourages at-risk populations to get an HIV test. (See list of resources for details.)
Marcus, who says he thoroughly enjoys occasional drug use and feels he isn't addicted, nonetheless is working on excluding drugs altogether from his life.
"You take this thing, and you do things you would never do," he said. "It's like totally different from your character, very scary. This is the thing that's very dangerous."
But that gets harder with time. Another gay Singaporean —let's call him Henry—fit none of the stereotypes of someone who would suffer from drug addiction and imprisoned. An academic and a business consultant, he was well educated, successful, and lived up to the promise of his background—before his life spiralled out of control.
Henry didn't realize he was addicted until after he was arrested for drug possession, served time in jail and went through treatment, and got out—only to relapse by going back to using meth.
"When I had the relapse, that's when I realised, my god, my life is getting out of control," Henry said. "I just couldn't say no. A part of my brain just shuts down and wants to continue to use."
Today Henry stays clean, attends a Narcotics Anonymous support group, and helps others as a volunteer and public speaker. But he sees substance abuse among gay men becoming a greater epidemic than it is already, unless there is greater awareness among about the dangers that come with drug use, and unless health and legal officials put more stress on treating substance abuse as a health problem, as opposed to a legal problem.
"Once you're addicted, it will be a lifelong struggle to come clean," Henry said. "I've seen so many cases where people's lives go out of control. These are talented and intelligent people, and they're no longer themselves. It's pretty terrifying."
This article is originally published in Element magazine Vol.3. To purchase Element magazine, log onto www.elementmag.asia for more information.