(The cars are arranged in alphabetical order).
BMW 5-Series (4-door executive sedan)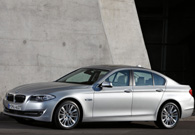 The 6th generation of BMW's 5-series will remain the sporty choice among executive cars; as it continues to lead the class for fuel efficiency and driving pleasures. However, the new 5-series looks too conservative after a decade of Bangle-flaming designs. And while the interior has become neater by doing away with the double-hub dashboard, BMW cabins though well-built, are now uninspiring.
Would a gay man want one?
Best to wait for the new (and flashier) Audi A6 before you make a decision.
Would a lesbian want one?
You would love it; BMWs are fast becoming the Subaru of past. Boring looks but brilliant in everything else.
Alternatives: Jaguar XF, Mercedes E-Class
Cadillac CTS Coupe (2+2 coupe)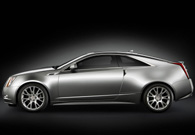 GM might have sent Saab nine feet under, but no such thing will happen to Cadillac, as the resurgence of Cadillac continues with the stunning CTS Coupe; armed with a 304bhp V6 and a properly sorted out rear wheel drive chassis. The production version will enter showrooms in early 2010 virtually unchanged from the 2008 Detroit Motor Show concept car.
Would a gay man want one?
Drool all you one boys, this one is in left hand drive only.
Would a lesbian want one?
Unless you are into nudist camping, the Cadillac CTS Coupe is probably not your cup of tea.
Alternatives: Nissan 370Z, Audi TT-RS
Honda CR-Z (4-seater coupe)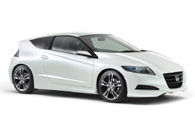 The world's first hybrid sports car features a stunning wedge shape profile that can be traced back to Honda's CR-X models in the 80's and 90's. At this point of time, the CR-Z (Compact Renaissance Zero) will be powered by a combination of a 115bhp 1.5 Litre engine and an electric motor that adds another 15bhp. 223Nm of torque in a light weight package with a 6-speed manual gearbox stirs the CR-Z from 0-100km/h in around 9 secs. Not much, but we know Honda can do a lot with less.
Would a gay man want one?
Looks like you can impress your date with a car that boasts green credentials and (hopefully) driving thrills at the same time.
Would a lesbian want one?
Looks like you and your girlfriend are finally going to get your first car as this one sips fuel, but try to overlook the shortage of space.
Alternatives: Tesla Roadster Sport (if you can somehow fool the bank to give you that loan and muster the patience for the 2-year waiting list).
Maserati Grancabrio (4-seater cabriolet)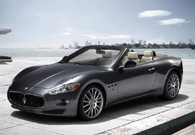 The Granturismo is arguably one of the most beautiful car on sale today and it will be offered as a cabriolet soon. Opting for a canvas hood over a folding metal roof has enabled the Grancabrio to retain the elegant profile of the coupe. Only one engine option, the 4.7 litre V8 engine from the Granturismo S is offered on the Grancabrio, presumably to cope with the extra weight.
Would a gay man want one?
Imagine the four ladies of Sex and the City seated comfortably with the top down. To LxxxxMxx2611, time switch to a drop-top?
Would a lesbian want one?
Imagine the four ladies of Sex and the City seated comfortably with the top down. (Or are we wrong about this one?)
Alternatives: Aston Martin DB9 Volante, Bentley Continental GTC
Mercedes SLS AMG (2-seater supercar)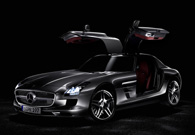 The SLS AMG marks the return of the iconic gullwing doors of the 1952 Mercedes 300SL. For the first time, AMG, who is the sporty arm of Mercedes, designed the car from the ground up, rather than tuning an existing Mercedes passenger car. The entire car body is made with aluminum and boast a 47:53 front:rear weight distribution. The relatively light 1620kg supercar armed with a 571bhp 6.2 litre V8 engine and a 7-speed dual-clutch transmission means a devastating 0-100km/h in 3.8 sec. Paris Hilton will certainly be placing an order for one.
Would a gay man want one?
This is definitely a man's car! The gullwing doors require you to grab the door handle on the way in.
Would a lesbian want one?
No way, closing the gullwing doors might risk you and your girlfriend having a wardrobe malfunction situation.
Alternatives: Nothing from this planet. Even the scissor doors of a Lamborghini Murcielago LP640 can't match the dramatic gullwing doors of the SLS AMG.
Nissan Qazana (5-seater city car-SUV)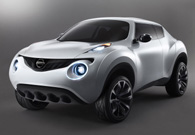 After the successful Qashqai, Nissan continues to push new boundaries with the Qazana, a new city car-SUV. This will certainly affirm Nissan's status as the best crossover maker in the world. The production version will retain much of the exaggerated proportions of the concept car, except for the suicide doors, LED lights and monstrous 20" alloy wheels.
Would a gay man want one?
How about plotting a promotion and a handsome pay raise to get the forthcoming Mini SUV instead?
Would a lesbian want one?
Trade-in the (rubbish) Toyota Rush and get in the queue already!
Alternatives: A restored Mini Moke?
Peugeot RCZ (2+2 coupe)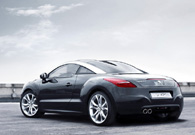 When was the last time a Peugeot was described as beautiful? Well, that would be the 406 coupe from 13 years ago. With attention-grabbing details like the blistering wheel arches, double bubble roof and rear windshield, the RCZ looks to be the most outstanding compact coupe since the first Audi TT in the late 90's. Let's hope that it will drive as well as it looks.
Would a gay man want one?
This might be the "it" coupe of 2010, just do not get distracted by the 308CC.
Would a lesbian want one?
We suspect you might prefer a Peugeot 3008 for your frequent barbeque gatherings.
Alternatives: Probably an Alfa Romeo Brera, since you are concerned with looks only.
Toyota FT-86 Concept (4-seater coupe)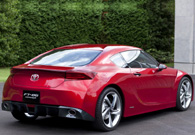 The motoring brand equivalent of 'Marks and Spencer' boxers turns its back on conservatism to give us a coupe that looks like a miniature BMW 6-series. Made possible only because Toyota's new boss, Akio Toyota has a deep passion for driving. The FT-86 is a collaboration between Toyota and Subaru hence the boxer-four engine in the rear-wheel drive compact coupe.
Would a gay man want one?
You would still want one despite having to tell people that you drive a Toyota.
Would a lesbian want one?
You will probably overlook the lack of practicality as you believe that this one should be reliable.
Alternatives: A used BMW 6-series?
Volkswagen Scirocco R and Golf GTI-R (4-seater coupe and 3/5 door hatchback)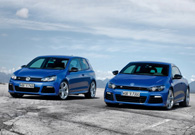 This pair finally gets the power their wonderfully sorted out chassis have been screaming for, with a 265bhp 2.0 litre turbocharged 4-cylinder engine first featured in the Audi S3. While the Golf GTi-R gets four-wheel drive, the Scirocco R will remain front wheel drive, relying on a XDS electronic transverse differential lock to harness the massive power.
Would a gay man want one?
The Scirocco R will do nicely.
Would a lesbian want one?
The Golf GTI-R (5-door) will do nicely.
Alternatives: How about the new RenaultSport Megane 250?
Volvo S60 (4-door junior executive sedan)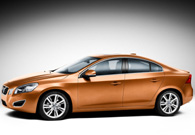 Ever notice how both Swedish car makers Volvo and (now defunct) Saab have a habit of taking their time with replacing their cars? The current S60 is already a decade old and its replacement couldn't arrive a minute later. The sharp suited S60 will share it's underpinnings with the fine-driving Ford Mondeo. New owner, Chinese carmaker, Geely should be pleased to inherit the new S60.
Would a gay man want one?
Sorry, getting a Volvo might mean a very long dry spell for a gay man's sex life.
Would a lesbian want one?
You will be distracted by the Volvo V70.
Alternatives: Audi S5 Sportsback