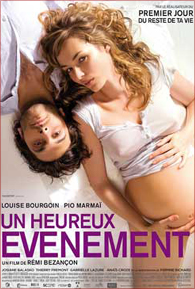 When Hollywood does pregnancy these days, it's usually as a gross-out comedy that paints the condition as an unnatural process that turns smart career women into hormone-bound fools, raging ogresses, and gluttons for gluttony. Rémi Bezançon's film adaptation of the novel by Eliette Abecassis offers an antidote to the Hollywood approach, offering a frank comedy-drama that is based more on how a real-life woman would experience her pregnancy, and the real-life situational comedy that often develops from it.
I mention comedy-drama because the film is split into two halves – a comedy about a young, immature cohabiting couple dealing with pregnancy, and a melodrama about a young, immature cohabiting couple whose relationship falls apart upon the arrival of their newborn child.
The comedy of the first half has some genuinely funny moments, especially when the script adopts a sexually frank, politically incorrect look at the issues women face during pregnancy. The funniest moments of course feature both sets of in-laws and their sets of eccentricities and attitudes towards the couple and expectant mother. Otherwise, we could be watching a very generic comedy about a very generic pregnancy that you could fill in the blanks in the script at times.
The melodrama of the second half comes almost as a rude shock to viewers. The same characters are torn apart due to a very natural, and less talked about phenomenon called post-partum depression. Bezançon's script seems to adapt this portion of the Abecassis novel poorly, veering into misogynistic territory as it seemingly blames the young mother's liberal arts, PhD background for turning her into a caricature of a shrill, unrealistic, overachieving, fad-following, mollycoddling, unreasonable creature. This half seems to go on and on, so relentlessly melodramatic that even its weak occasional attempts at humour can come across as comedy gold.
By focusing on the wrong concept,
A Happy Event
is a comedy that runs out of comedy halfway. The reason why Hollywood makes awful gross-out pregnancy comedies is not so much a failure of scriptwriting as a failure within the concept itself. All "realistic" pregnancies are generic but everyone's children are unique. Everyone has a different, interesting, and surprisingly funny to tell of their kids, which is why child-rearing comedies can be so varied. By taking the opposite melodramatic track on childrearing,
A Happy Event
goes against this basic principle of entertainment in film.
We recommend the classic
Parenthood
for a frank, no-holds-barred comedy about family life.