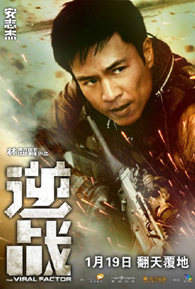 Despite a title sounding like a reality show where people compete to see whose internet viral videos get more hits, The Viral Factor is really a pulse-pounding, lightning-paced action thriller that truly thrills with its strong visuals and solid script.

International Defence Commission (IDC) agent Jon Wan (Jay Chou) was raised by his loving mother, who left his alcoholic ex-policeman father and has built a better, more affluent life with him. Nicholas Tse is his brother Wan Yang who while staying with his crippled, alcoholic hawker father in Kuala Lumpur, has been in and out of crime since he was 16. On a mission in Jordan to escort a brilliant germ warfare expert to safety, Jon is betrayed and left for dead by fellow agent Sean (Andy On) who turns out to be working for an international arms dealer in a plan to weaponize a new virus, unleash it on an unsuspecting populace before selling the world the cure and turning a huge profit.

After recuperating from his occupational injuries, Jon goes to Malaysia to search for his father and brother on his mother's request. There he finds that Yang has recently escaped from police custody after trial for armed robbery, and is living with their father who has since become a hawker. When an attractive female scientist Dr Kan (Lin Peng) becomes involved, they uncover a trail of conspiracies and cover-ups involving all the way back to Sean.

The movie's strength lies in its characters and its well-orchestrated set pieces. The parallels between both brothers, who are both quick-thinking, reckless and self-sacrificing despite the different sides of the law they take, are enforced without ever coming off overly unsubtle. The set pieces are well-executed to function almost like a kind of rough action poetry, where explosions don't punctuate every scene but are used judiciously, and where suspense is kept high by always letting the audience know a little more than the character does, but the character is given excellent reasons for not knowing what the audience knows.

The script's sole weakness is a kind of overly drag-on sentimentality and tweeness in scenes depicting the familial ties of the two brothers, which takes the edge off what is meant to be a rough and tumble action epic. Still, at the end of the day, The Viral Factor is another sign of Dante Lam fast rising to the top ranks of post-John Woo action filmmakers, a maker of slam-bang thrillers that are also high on character.