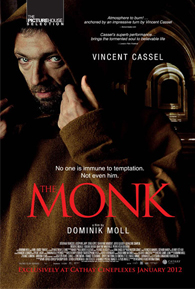 Matthew Lewis' late 18th-Century Gothic horror novel gets a new French adaptation from director Dominik Moll (Lemming) and stars Vincent Cassel as the eponymous character, one Brother Ambrosio in a Capuchin monastery in 17th-Century Spain. An orphan raised by the monks, he is a model of rectitude and a masterful preacher, and wins the hearts of many in his parish.

One day, a young hideously scarred novice wearing a mask evoking Japanese Noh named Valerio joins the parish with more than a few secrets up his sleeve. Chief being that he is in fact a gorgeous young woman named (Deborah Francois), and that secondly, she may actually be a demon, or even the Devil, in disguise. Things also get complicated by Ambrosio's lust for an innocent young parishioner named Antonia (Josephine Japy). Valerio is all too willing to help...but there's always a price to pay.

Moll's command of mood is impressive from the opening credits, shown against a series of hideous stone gargoyles on the monastery, and doesn't let up throughout the film. The film retains a claustrophobic, oppressive feel both in the evocation of the Monastery, and the narrow passages of the Spanish city it is set in. Being sourced from a novel written by an Englishman in the late 18th Century, the plot outline would have arched towards moralising and would have turned into a preachy fable against temptation had not Moll's few clever directorial choices saved it. Moll adds appropriate touches of the surreal to the goings-on, especially leavening the Gothic horror with the Val Lewton-esque ambiguity of the sort seen in cult horrors like I Walked With A Zombie and Curtis Harrington's Night Tide. For much of the film you're never quite sure if the supernatural goings-on are all in Brother Ambrosio's head as the effects of his guilt and repressed sexuality, and even goes as far to top it off with an ending that feels like something out of Kubrick's 2001 or Malick's The Tree of Life territory and has to be seen to be appreciated.

The film can both be read as a straight-up horror or a psychological examination of the nature and effects of faith, desire and guilt. By retaining that ambiguity, Dominik Moll and screenwriter Anne-Louise Trividic have created a moody, skilful little piece which hints and teases, and may in fact be something deeper.