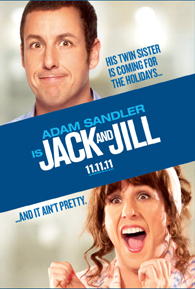 Adam Sandler, in his self-produced romantic comedies, performs the same character in the same schtick over and over again. The Sandler character is invariably an annoying man-child with passive-aggressive asshole tendencies. In his filmic universe however, the same Sandler character possesses a mysterious power to beguile hot females (i.e. the "hot girlfriend" or the "hot wife" character) despite his qualities. Either that or the females in the Sandler comedy are long-suffering idiots hard up for personal ill-treatment by the object of their blind affections. It gets tiring after a while watching all these comedies unless you belong what I suspect is a target audience of man-children with passive-aggressive asshole tendencies.
Jack and Jill
however, gets my approval. Here, Sandler plays a pair of twins more unlikely than Arnold Schwarzenegger and Danny DeVito in
Twins
or Kermit the Frog and Fozzie Bear in
The Great Muppet Caper
. Meet Jack, the passive-aggressive asshole and Jill, his twin sister, who happens to be the annoying man-child – but with boobs! Jack can never stand his twin sister Jill, whose childish antics embarrass him. But when Jack's PR firm's largest client, Al Pacino, falls for Jill, it's time for some forced and ultimately hilarious family bonding!
Unlike a typical Sandler romantic comedy, you'll never get exasperated with how the film demands you to empathise with a passive-aggressive asshole of a man-child. Here, the role is effective split into a sympathetic, well-meaning and annoying simpleton and her asshole twin – and who the audience is meant to root and feel for doesn't feel at all forced.
Jill's suitor is Al Pacino playing a larger than life version of himself, a sort of kooky celebrity that you expect to see on reality television. Unlike a Sandler comedy where the man-child's rampant misogyny makes you wonder how blind the hot female love interest is to fall in love with him, here the gender reversal with Pacino as the love interest is all the reason you need to buy into the improbable romantic pairing.
Jack and Jill
may look like a typical Adam Sandler film but thanks to all its little tweaks and improvements to his film formula, it's a very mature and great Adam Sandler comedy.