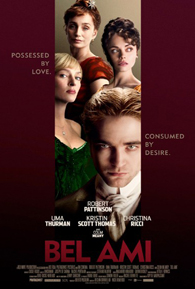 In
Bel Ami
, George Duroy, a penniless former military man leads a life of obscurity, ignominy, and poverty in Paris while being driven to an existential rage by the very public pleasures and pursuits of the elites of the Belle Epoque. Fortunately for the barely literate and completely politically illiterate protagonist, Parisian society and France is run by very powerful men who are run by their wives, who in turn seem to take notice of his rough charm and take him for their lover. In short, a cad of a man sleeps his way to the top.
What makes
Bel Ami
a classic of French literature and the social realist movement is how in Guy de Maupassant, like his mentor Gustav Flaubert in
Sentimental Education
, paint a detailed picture of French society, its class system, and the game of social positioning by its various social castes. If Aristotle decreed in Poetics that plot is character in motion, Flaubert and de Maupassant create great works of literature because they believe that every character, as a social being in a cultural and political space, avails himself to certain strategies and sets himself in certain trajectories that are available solely to his position in social space. So for the French masters, not only is plot character in motion, plot is character in motion due to the fact that the character is predisposed and destined for such motion by virtue of who they are.
As a reasonably faithful adaptation of the original novel, there's very little that goes wrong in
Bel Ami
script-wise. The darkly comic, mildly misanthropic tone of the novel translates well in the film as social farce. As benefiting a film helmed by two veteran stage directors,
Bel Ami
has high production values, with very accurate period costumes and details. More importantly, it is a surprisingly good film experience despite of and because of its stunt casting. In their hands, Uma Thurman acts as though she has been playing costume dramas all her life. And I suppose Robert Pattinson, feeling the heat of building a film career beyond the
Twilight
saga, is convincing (and well cast) as a social and political outsider unsure of his place and uncomfortable with high society.