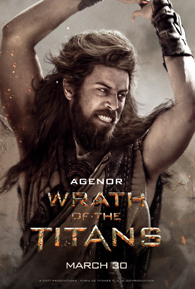 Few films in recent memory have benefitted from lowered expectations like
Wrath of the Titans
has – after all, its predecessor was a pretty terrible mess, from the clunky dialogue to the awful tacked on "3D", and it wouldn't have taken much to improve upon. This time round, the story comes with much less baggage, and despite another post-production 3D conversion, looks far better than the first film. That's not to say that
Wrath of the Titans
is a masterpiece, but at least it's much less painful to sit through, with a number of decent action set pieces, and the injection of much-need levity into the proceedings. It also helps to view this film on as large a screen as possible (IMAX 3D being the most ideal), as it amplifies the cinematic experience and makes the film's flaws more tolerable.
And there's no shortage of things to pick on in
Wrath of the Titans
, if one is inclined to do so. The dialogue is painfully clunky, with characters often delivering dialogue solely for exposition's sake, and the script borders on incoherence very often. The production team does seem to be aware of that, and occasionally poke fun at themselves (at one point, one character tells another to "avoid the big speech"), which makes it a little more tolerable. There's also a lot of soap opera going on for an action movie, and these exclusively male, uncomfortably melodramatic scenes really weigh down the narrative.
Still, the film largely looks good, and the action sequences are quite impressively choreographed. Liam Neeson and Ralph Fiennes bring higher quality acting and gravitas to the table, while an almost unrecognizable Bill Nighy steals the show with his high energy portrayal of Hephaestus. Action junkies should still leave the cinema feeling sated, but here's hoping that if there's a third film in the franchise, that it would be a higher quality production all round.