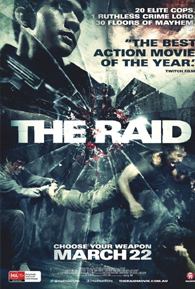 There are action movies and then there are movies composed of a stream of unending action. The Raid: Redemption is such a film. If you've watched one, you know how films like this go. They play out pretty much like a beat-them-up video game where a solitary hero has to dispatch all the minions and villains appearing from the other end of the corridor. If you really want to miss out on 75% of the dialogue in this film, just miss the first 5 minutes of the screening and then you'll be in for an ultra-violent treat.
For review purposes though, we'll bring you up to speed on the plot. Iko Uwais stars as an Indonesian cop who participates in a SWAT team raid of an apartment block run by Indonesia's top gang boss. The mission – to capture every low-life criminal and murderer renting the block, take out the two sub-bosses, then apprehend the gang boss.

Since we require this to be an action movie that showcases unarmed silat fighting in a real-world setting, a concatenation of coincidences has to take place. The team isn't even properly briefed about the raid. They get cut off from their communications network. Everyone apparently wears jackets that aren't bullet proof. They all run out of ammo and then run around fighting with bare hands and knives even though their SWAT jackets come with several grenades. Hell, they're even equipped with the wrong firearms for an urban raid. All this have to happen just so our valiant hero has to fight very painfully to the top floor and take out the boss!

For a film consisting brutal wall-to-wall action and no-holds-barred fights, The Raid: Redemption does what is expected: it is a film about men brawling and beating the brains ouit of each other. I'd rate it higher than Tony Jaa's Ong Bak solely because The Raid Redemption's lack of exhibition moves make the action feel painful and all the more impressive.