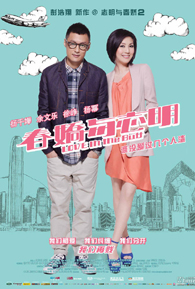 Two years ago, Shawn Yue and Miriam Yeung starred in Pang Ho Cheung's Love in a Puff. Then, as now in the sequel, the gimmick is a romcom for the sexually frank and adventurous set a la Sex in the City and the twist being much of humour (both situational and in the banter) reminds one of 90s American sitcoms about nothing in particular at all.

The charm is that in between several suggestive jokes and hook-ups, the audience is also entertained by how the characters in the film regale each other in conversational foreplay with a string of tall tales, shaggy dog stories, and bizarre vignettes about other people and themselves. The humour is oddball but it does feel unforced and refreshing compared to the tired formulaic contrivances of so many American romcoms.

In Love in the Buff, Pang keeps his original formula while changing everything else. The romantic duo played by Yue and Yeung break up, uproot themselves to mainland China, find new, more promising and reasonable romantic prospects... and end up furtively longer for each other, meeting up with each other, and romancing each other again.

Where Love in a Puff was Pang's reconstruction of the modern Hollywood meet cute romcom, Love in the Buff is Pang's reconstruction of the remarriage romcoms Hollywood used to make in the interwar years. The film is smart and well executed, and you should make a point to catch it in the original Cantonese language if possible.