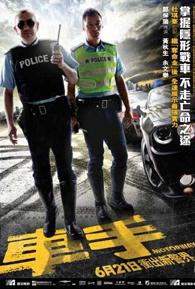 Soi Cheang came to my attention a few years ago with a mixed martial arts action flick based on a controversial manga called
Shamo
, showing him to be a director of formidable skill and talent in the parched Hong Kong film industry with a solid grasp of action, flow, tension and character.
Motorway
however, comes across more as a technical exercise than an actual film. Soi Cheang, working under the Milkyway Hit Factory of Hong Kong Noirmeister Johnnie To, is obviously aiming low for simple drive-in B-movie thrills, and he gets there effortlessly and competently.
Shawn Yue plays Chan Cheung, a rookie cop and a member of a stealth police unit consisting of the best drivers in the force that targets against underworld racing and fugitives on the run. Sean's mentor Lo Fung (Anthony Wong) is on the verge of retirement and seems to be slacking his way through his pre-retirement phase. Unknown to Sean though, his mentor is in fact a former ace driver himself, and one of those who nearly caught a getaway man by the name of Huang Zhong. Huang is now back in the headlights after trying to spring his old friend Jiang Xin from prison and engaging the two of them in a diamond heist with the involvement of a Dutch Chinese crime syndicate.
The car chases are low budget, realistic and reliant on tension rather than speed, while Chan and Lo are stock characters for the genre but played passably. The film is short and forgettable, but while it's on it's very entertaining, and you won't do worse if you want to see nothing more than a competent, compelling action film with Noir touches.