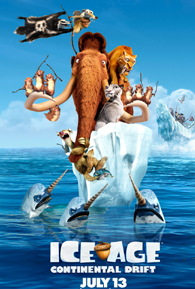 In the third Culture War (declared by Pat Buchanan in 2006, no less!) between LGBTQs and our liberal allies on one side and the forces of conservatism on the other, the Ice Age series of animated films holds a place of honour. Of the animated film franchises of the 2000s, it stands alone in its fearless endorsement of the Theory of Evolution and its celebration of the non-traditional, non-nuclear family unit as the building block of society. Yes — a sabre-toothed tiger, a woolly mammoth, a sabre-toothed squirrel/rat, a sloth and a couple of possums are in fact our advance troops who will win the culture wars and institute our nefarious Agenda by winning the hearts and minds of unsuspecting tots and their parents!

The fourth instalment of the Ice Age series opens with Skrat, the Buster Keaton of animation, causing the supercontinent of Pangea to split apart (hence the 'continental drift' of the film title), causing the recently reunited multi-species herd headed by Manny the mammoth to be split, with one group trapped on a self-destructing mainland and the other marooned on the high seas, imperilled by a baboon pirate captain voiced with aplomb by Peter Dinklage. What follows is an adventure, again involving the regulars of the Ice Age series, again repeating the series motif of epic journeys undertaken for the sake of family togetherness.

For a fourth entry in a film franchise, it's actually surprising that Ice Age: Continental Drift doesn't betray for a second any tiredness in formula or writing, despite the very familiar gags involving Skrat (who for this reason gets far less screen time than previous instalments) or the 'it's all about family' punchline. The gang has been travelling over ground or underground for the past three films, so making this a hijinks on high seas adventure (complete with Pirates and Moby Dick jokes) doesn't feel as though it's jumped the shark at all.

In fact, you may wish that this film go entirely overboard with its high seas adventures instead of splitting its story with a too-preachy and tiresome arc where Mannny the mammoth plays an overprotective, overbearing father of a Hormonal Teenage Daughter who is so susceptible to Peer Pressure and the thought of Being Popular With the In Crowd. Sadly without levity, this dramatic arc plays like a tiresome episode of The Cosby Show or The Fresh Prince of Bel Air. I contend though that how the film resolves this plot problem firmly puts itself in our corner of the Culture Wars.