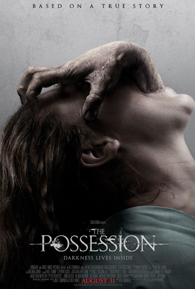 Sometimes it feels like there's no point in doing horror these days. Everything has been done already, from demonic possession to spooky evil children to flesh-eating zombies to little children in kabuki makeup to found footage faux documentaries. Worse yet, everything has been done already and we're still seeing more of the same, repackaged with increasingly poor scripting and execution that veers on the comic. And even worse, the best horror films for quite some time are the intentionally comic and absurd — witness the success of zombie comedies and this year's
Cabin in the Woods
.
Produced by Sam Raimi,
The Possession
attempts to buck these trends in horror film, to turn back to the clock to the golden age where American horror films could be nominated for Best Film in the Oscars.
Yes,
The Possession
is sort of a tribute to the sensibilities of
The Exorcist
, with its slow-building, suggestive, philosophical horror. The twist though is instead of a Catholic or Anglican theology,
The Possession
deals with Judaism and spiritual beliefs instead. The object in question is a Jewish "dybbuk box" which entraps an ancient malevolent spirit and must never be opened under any circumstance. And since this is a horror movie we're talking about, of course this box is bought in a yard sale by an innocent, vegetarian little girl who, after possessing the box, is possessed by its inhabitant and turned into a meat-eating, hungry, mean, and violent girl who speaks in a guttural voice. Very soon, a Jewish rabbi (played by a real life Hasidic rapper) will be called in to perform an exorcism!
If you've watched Linda Blair puke green vomit and turn her head around in
The Exorcist
, you'll know what to expect from
The Possession
— or at least what the creative team behind it is aiming for.
What Sam Raimi doesn't account in this genre revival is how much time has passed since
The Exorcist
and how the genre has moved on since then, and how much its deterioration still manages to seep into the film. While
The Possession
has its unnerving and eerie Kodak moments, much of the film feels all too predictable — so predictable that the actual scares may come across as silly. Jeffrey Dean Morgan as the Troubled Parent is sensitive and sympathetic without being horror movie parent stupid, but the domestic set-up of a suburban family undergoing troubled times as way of introduction to the horror motif is too conventional and unimaginative — and too modern.
Yes, we're suggesting that having a supernatural haunting as an allegory for domestic, suburban angst is passe. No, we're not quite suggesting that having a supernatural haunting as an allegory for colonial guilt (
The Exorcist
trilogy) or the anxieties of sexual flowering (
Hausu
) is the answer, just that they made for really entertaining and gripping horror.