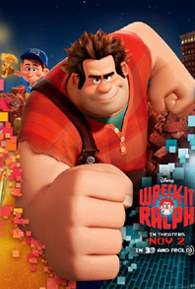 Video games have a long way. The object equally of moral panics and adoration in their teething stage, they have been accused of violence, of ruining the young's quality of life and promoting inathleticism even as they have become adored for creating new avenues of social interaction and blamed for promoting game and internet addiction, amongst other social ills.
Wreck-It Ralph
is an affectionate salute to this medium that has finally come of age after entertaining several generations of children and if the popularity of Wiis and XBoxes are anything to go by these days, are entertaining them well into adulthood.
As the sun comes up, kids of all ages file into Litwak's arcade in order to have some fun with the vast collection of games there. These include a very old game from the 80s by the name of Fix-It Felix Jr. The eponymous character is the game's villain (fittingly voiced by perennial onscreen loser John C Reilly), a redneck with abnormally large fists whose job, as the villain of his game is to destroy a large apartment building that the hero has to rebuild with his magic hammer. After three decades of being a villain though, Wreck-It Ralph decides that he wants to be a hero for a change, and get some of the love and respect he would never had as a villain. As far as the arcade is concerned, everyone still remembers the Legend of Racing Game Hero Turbo, who invaded another game after his own became unpopular, resulting in the removal of both game machines from the arcade, and has been spoken of as a terrifying cautionary tale for what happens when game characters try to change their lot in life.
Wreck-It Ralph though is willing to achieve his dream of game-jumping into hero status, though, and before long he finds himself traversing games of different genres including Hero's Duty, a Starcraft/Halo mix in which the player has to kill off an entire fortress of CyBugs, and Sugar Rush, an ultra-cutesy racing game where boys and girls named after Candy flavours compete against their jolly King Candy (Alan Tudyk). In his adventures, Ralph befriends the annoying but endearing Vanellope Von Schweetz (Sarah Silverman in what might be her most appealing performance in ages) even as Felix (Jack McBrayer), who is on a search for his missing friend, falls for tough as nails Lt Calhoun (Jane Lynch), the heroine of Hero's Duty.
The subject matter here provides not just for numerous product placements and many amusing guest appearances by characters from great video game franchises such as Sonic the Hedgehog, Street Fighter and Mortal Kombat, but also wonderfully lavish production design in evoking the different worlds of the video game arcade world, from the terminal that the characters meet located in the arcade's powerpoint, to the various game worlds that are self-contained universes. Clever animated touches such as deliberately slowing the frame count for most characters in Fix-It Felix Jr. to replicate the clumsy animation of old video games contribute to the feel of a fully realized in-game world that you can imagine just happens in your local arcade.
Though those familiar with going to video game arcades will find a few plot points and the nature of the games just plain strange and a little contrived (like why would a racing game use an entirely randomized character list) to fit into the film's overall plot, and some may even find the presence of the villain unnecessary, the film mostly excels where it counts, and these few minor flaws don't stop a film with a heart big as its lead's fists.