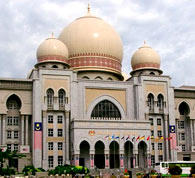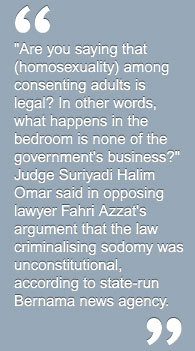 Malaysia's Penal Code Section 377 states that "whoever voluntarily has carnal intercourse against the order of nature with any man, woman or animal" provides for imprisonment of up to 20 years, and fine or whipping. Section 377A provides for a male person to receive up to two years in prison for any act of 'gross indecency with another male person.'
The following is an extract of a report "Man fails in bid to legalise sodomy" published by The Star (Malaysia) on January 19, 2010. Click on the link below to read the article in full.
A Kuala Lumpur City Hall worker convicted of 22 counts of sodomy wants the Court of Appeal to declare as unconstitutional the provision that criminalised the act.
[Abdul Rahim Abdul Rahaman had said the acts were consensual, according to an AFP report.]
Abdul Rahim Abdul Rahaman contended that it was biased against the male gender.
The submission was made by Abdul Rahim's counsel Fahri Azzat in his appeal to set aside the 60-year jail term and 22 strokes of rotan meted out to him by the Shah Alam Sessions Court in 2007.
However, Abdul Rahim — a HIV patient — failed to convince Justices Datuk Suriyadi Halim Omar, Datuk Hasan Lah and Datuk Ahmad Maarop who dismissed his appeal and upheld his sentence.
Fahri argued that Sections 377A and 377B of the Penal Code which make committing carnal intercourse against the order of nature a crime infringed Article 8 (1) and (2) of the Federal Consti-tution, which states that all persons should be treated equally and prohibits discrimination against citizens.
He said a scrutiny of Section 377B clearly showed that the provision only applied to males because it referred to a person introducing his male organ into the anus or mouth of another person.