The following is an excerpt from an AFP report via The Taipei Times: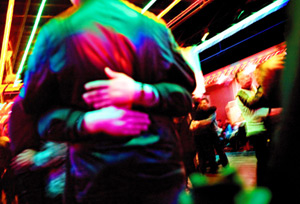 Chinese gay men slow dance to a ballad in a Shanghai club. Photo by AFP
In a shabby hall in a working-class area of Shanghai, dozens of men slow dance to a ballad, enjoying a few hours in the company of other homosexuals before going home — many to their wives.
Every weekend evening, men of all ages pay 7 yuan (US$1) to waltz, rumba and be themselves — no small feat in China, where homosexuals still face crushing social and familial pressure.
"If you're gay and people find out in my hometown, everything is over," said Leon, a 28-year-old tour guide from Anhui Province who has lived in Shanghai for 10 years, is married and has a boyfriend on the side. "But in Shanghai, there are a lot of people like us and places like this — it's a good city for us."