Updates:
Jan 27: BBC reports that Ugandan police have arrested one suspect in the murder of gay activist David Kato but the main suspect, who police say lived with Kato, remains at large. The police have said there is no connection between Kato's activism and his death.
Jan 27: Giles Muhame, managing editor of the weekly Rolling Stone tabloid that outed David Kato and others in the "Hang them" articles told the UK Guardian in a telephone interview: "I have no regrets about the story. We were just exposing people who were doing wrong." On Oct 2, 2010, the paper promised to expose 100 gay people, and printed the photographs, names, and in some cases home areas, of people it claimed were gay. A few weeks later the tabloid carried another frontpage story with the headline "More homos' faces exposed", with the identities of 17 people inside.
Jan 27: US President Barack Obama and Secretary of State Hillary Clinton condemn killing, call for a swift and thorough investigation of his death by local authorities.
Jan 28: Scuffles broke out between locals and friends of the late activist at his funeral on Friday after the pastor conducting the service berated gay people. Reuters also reported that as villagers refused to bury the coffin, friends of Kato, most of whom were gay, carried his coffin to the grave and buried it themselves.
---
David Kato, a gay activist and one of the plaintiffs in the successful lawsuit seeking a permanent injunction against the tabloid that promised to publish a list of 100 homosexuals, was murdered on Jan 26.
David Kato, a gay activist, was found murdered at his home near the Ugandan capital of Kampala on Jan 26.
According to the Box Turtle Bulletin blog that closely follows the developments in Uganda, Kato, the advocacy and litigation officer for Sexual Minorities Uganda (SMUG), was found bludgeoned to death at his home near the Ugandan capital of Kampala. The blog says Kato's death has been confirmed by his colleagues Frank Mugisha and Pepe Julian Onziema, who identified Kato's body in the hospital morgue.
Kato was one of three applicants who had been named by the tabloid Rolling Stone (no relation to the US publication of the same name) under a headline tagged "Hang Them!" His photo also appeared on the tabloid's front cover and inside where another photo appeared with his name.
After being named by the tabloid and despite the favourable court verdict, Kato had expressed fear for his safety. He was quoted as saying in an AlertNet article that he had been living in terror ever since he was named. "Since we got exposed by Rolling Stone, we have been living like fugitives in our own country," he said. "We have to keep shifting houses for fear of being attacked. Some of the gays have decided to leave the city and head to rural areas in order to protect themselves." Several activists said they had been attacked after their photographs were published.
At this time, it is not known whether his killing was linked to the court case or tabloid story.
Three activists, including Kato, eventually sued the publication and won on January 3. The judge ruled that the publication had violated their constitutional rights to privacy and ordered compensation. He also issued an injunction prohibiting any further publication of the identities and home locations of individuals labeled homosexuals.
Kato had been a leading voice in the fight against the Anti-Homosexuality Bill, which has been before Uganda's parliament since October 15, 2009. While homosexual sex is already illegal in Uganda, the proposed law would criminalise all homosexuality, making it punishable by a fine and life imprisonment. "Repeat offenders" and those who are HIV positive would be subject to the death penalty. The bill would also oblige anyone with knowledge of someone who is or might be a homosexual to report that person to the police within 24 hours.
In a statement on its website, the US-based Human Rights Watch provided additional details about the case. The statement said that witnesses told police that a man entered Kato's home in Mukono at around 1 p.m. on January 26, 2011, hit him twice in the head and departed in a vehicle. Kato died on his way to Kawolo hospital. The police told Kato's lawyer that they had the registration number of the vehicle and were looking for it.
In a statement condemning the killing, Sexual Minorities Uganda (SMUG) called on the police and the Government of Uganda to "seriously investigate the circumstances surrounding David's death."
The statement read: "We also call on religious leaders, political leaders and media houses to stop demonizing sexual minorities in Uganda since doing so creates a climate of violence against gay persons. Val Kalende, the Chair of the Board at Freedom and Roam Uganda stated that 'David's death is a result of the hatred planted in Uganda by U.S Evangelicals in 2009. The Ugandan Government and the so-called U.S Evangelicals must take responsibility for David's blood!'
"David's life was cut short in a brutal manner. David will be deeply missed by his family and friends, his students, and Human Rights organizations throughout Uganda and around the world. Speaking about what the death of David means in the struggle for equality, Frank Mugisha, the Executive Director of Sexual Minorities Uganda said, 'No form of intimidation will stop our cause. The death of David will only be honored when the struggle for justice and equality is won. David is gone and many of us will follow, but the struggle will be won. David wanted to see a Uganda where all people will be treated equally despite their sexual orientation.'"
---
A matter of life and death: The struggle for Ugandan gay rights
A talk by David Kato at the Centre for Gender Studies and the Centre of Governance and Human Rights, University of Cambridge, UK (24 Feb, 2010)
David Kato is a Ugandan Human Rights activist. He is also a key member of the largest sexual rights based organisation in the country Sexual Minorities Uganda where he is heavily involved in issues of advocacy and litigation in support of the LGBTI community. Kato was in conversation with Dr Andy Tucker (Deputy Director, University of Cambridge Centre for Gender Studies) on the current life threatening situation faced by sexual minority groups in Uganda and the continued struggle for sexuality-based rights. This event was co-hosted by the Centre for Gender Studies and the Centre of Governance and Human Rights.
---
---
A lesbian asylum seeker in the U.K. faces deportation to Uganda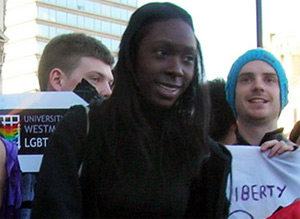 Brenda Namigadde, 29, fled Uganda in 2003 after being threatened
and her house destroyed over her relationship with her Canadian partner.
Her initial asylum claim was rejected in part on the basis that there was
not sufficient evidence that she is a lesbian. Photo: Guardian
On the same say he was murdered, a campaign highlighting the dangers a lesbian asylum seeker in the U.K. will face should she be deported back to Uganda.
The UK Guardian newspaper reported that the 29-year-old lesbian has been told by a Ugandan MP that she must "repent or reform" when she returns home. She is due to be deported on Friday.
Commenting on Brenda Namigadde's case, the politician, David Bahati, said he would drop a clause making homosexuality punishable by death in a bill he introduced to the Ugandan parliament.
Lesbian, gay, bisexual and transgender campaigners are however sceptical of his pledge to drop the death penalty, and said that Bahatia's intervention meant Namigadde was in "desperate trouble" if deported. Gay sex is a criminal offence in Uganda punishable by a prison sentence of up to 14 years.
Bahati told the Guardian: "Brenda is welcome in Uganda if she will abandon or repent her behaviour. Here in Uganda, homosexuality is not a human right. It is behaviour that is learned and it can be unlearned. We wouldn't want Brenda to be painting a wrong picture of Uganda, that we are harassing homosexuals."
He said he was "willing to drop the death penalty" because of international concerns, but "key clauses", including life imprisonment for gay people or gay marriage, imprisonment for the "promotion" of homosexuality and for those who fail to report an offence under the act, would remain.
Asked what would happen if she did not "repent" he said: "If she is caught in illegal practices she will be punished. If she comes to promote homosexuality, if she is caught in the act, if she is caught in illegal acts, she will be punished. I would be surprised, if she was promoting homosexuality, if she were not arrested."
Petition UK Home Secretary Theresa May to stop Brenda's deportation.