Update (Nov 10, 2011): Pahang State mufti Datuk Abdul Rahman Osman says his state will follow Malacca's move to amend its Syariah laws as the present provisions are insufficient in tackling deviant sexual behaviour and a specific legal provision was needed to spell out the crimes, the form of enforcement and punishment, the Star reported today.
The Malaysian state of Malacca may soon seek to prosecute gays and lesbians by applying the same type of Syariah legal mechanism used against deviant Muslim sects, reported the local Star newspaper on Wednesday. This follows the ban of the Seksualiti Merdeka festival, which was scheduled to begin today and run until Nov 13 in Kuala Lumpur.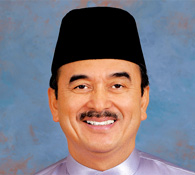 Chief Minister of Malacca Datuk Seri Mohd Ali Rustam
Chief Minister Datuk Seri Mohd Ali Rustam was quoted as saying that gay men and lesbians could be tried at the Syariah Court once the enactment was gazetted as Syariah law.
"We will revise the current enactment to specifically deal with homosexuals and lesbians in the state, including groups that promote such uncanny sex," he said on Tuesday.
The report quoted Mohd Ali, who is also Malacca Islamic Religious Department chairman, as saying that the enactment had to be revised to include bisexuals and transsexuals as there was no specific law at present to prosecute such groups.
He added that action could also be taken against any non-governmental organisation promoting and supporting such sexual practices. Since the Malaysian police demanded the cancellation of Seksualiti Merdeka last week, a number of groups including The Malaysian Bar, Sisters in Islam and the Malaysian Consultative Council of Buddhism, Christianity, Hinduism, Sikhism and Taoism (MCCBCHST) have voiced their support for LGBT Malaysians and the festival to be allowed to go on.
"We don't want such unsavoury culture creeping in and damaging the moral fabric of our society," Mohd Ali said.
No details of the specific amendments were made available but Malacca's Syariah laws already criminalise "intentional anal sex", "attempted intentional anal sex" and "sexual relations between any man, woman or animal which is against the order of nature".
When contacted by Fridae, Nizam Bashir, a solicitor and Syariah Practitioner who is formerly based in Malacca but now in Kuala Lumpur, said: "I don't know what our Malacca CM is talking about when he says there is no statutory mechanism in place to deal with homosexuals.
"Even at present, there is section 56 which criminalises "intentional anal sex" and section 57 which criminalises "attempted intentional anal sex". The punishment is a RM5,000 (US$1,600) fine and maximum three years imprisonment. Section 58 which criminalises sexual relations with any man, woman or animal which is against the order of nature. The punishment is a RM5,000 fine, maximum three years imprisonment and also provides for six strokes of the rotan."
While the new proposed provisions will only impact Muslims, Section 377A of Malaysia's Penal Code which criminalises "carnal intercourse against the order of nature" – or oral and anal sex – already prescribes up to 20 years imprisonment and whipping.