Unknown to anyone at the time, Call Me Kuchu would be about the last year of Ugandan gay-rights activist David Kato's life. He was one of the most visible gay rights advocates in Uganda before he was murdered in his own home in 2011, shortly after winning a lawsuit against a magazine which had published his name and photograph identifying him as gay and calling for him to be executed. The man convicted of murdering him was sentenced to 30 years jail.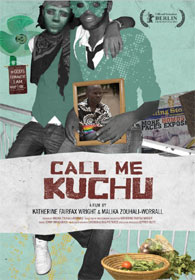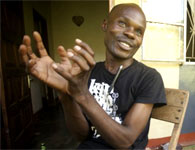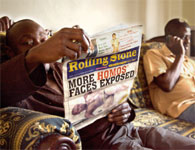 Middle pic: David Kato was one of the most visible defenders of gay rights in Uganda before he was murdered in 2011.
A former teacher, Kato became one of the most outspoken voices against the Anti-Homosexuality Bill which was introduced in Uganda's parliament in 2009. The proposed legislation, which had received international condemnation, sought the death penalty for "aggravated homosexuality" – defined to include homosexual acts committed by a person who is HIV-positive or below the age of 18, life imprisonment for "the offence of homosexuality," and prison for anyone who fails to report a known homosexual to the authorities. The parliament has not voted on the proposed bill.
Directed by Malika Zouhali-Worrall, a British journalist and videographer, and Katherine Fairfax Wright, an American filmmaker; the film's title references an Ugandan slang term coined by LGBT community to refer to one of their own members. The filmmakers followed Kato and his fellow activists around as they worked to defeat the proposed legislation while combating vicious persecution in their daily lives. But without warning, Kato was murdered one year into the filming of the documentary.
"The weeks following David's death were among the most challenging of our lives," the filmmakers wrote in a column published in the Huffington Post. "In some ways, David's brutal murder changed our motivations for working on the film. While we had always been keen to get the story of Kampala's kuchus out into the world, that sentiment became far more urgent and personal when David died. We had essentially documented the last year of his life, a time when he was at the pinnacle of his activism, when his philosophies and oration were most concrete and well-formulated, and when his understanding of the complexity of the scenario was strongest. He was a remarkable man, and we both felt a sincere responsibility to honor his life and legacy by making the best film that we could, and by ensuring that it had as broad a reach as possible."
Call Me Kuchu will be screened at the Freedom Arts Fest in Petaling Jaya, Selangor (8pm, Sept 23); and the Freedom Film Fest (FFF) in Georgetown, Penang (11am, Oct 6) and Singapore (2pm, Oct 28). The film is a winner of the following awards: BERLINALE Best Documentary, Teddy Award; DURBAN INTERNATIONAL FILM FESTIVAL, Amnesty International Human Rights Award; and HOT DOCS CANADA, Best International Feature.
As part of the festival, a selection of Malaysian and international films will be screened in Petaling Jaya, Selangor (Sep 22 & 23); Georgetown, Penang (Oct 6); Johore Bahru, Johor (Oct 13); Kuching (Oct 20); Sibu, Sarawak (Oct 21); Kota Kinabalu, Sabah (Oct 27); and Singapore (Oct 28). For film listings, please click here. The Freedom Film Fest started in 2003 in Kuala Lumpur (Malaysia) by Pusat Komunikasi Masyarakat ( KOMAS ) – an NGO that focuses on promoting human rights awareness and issues through the use of the film medium. The festival is based on its' recurring theme "DARE TO DOCUMENT" and challenges the public to document and share their stories without fear or hesitation.