The Federal Courthouse in Springfield, Massachusetts on Monday heard arguments on American pastor Scott Lively's motion to dismiss the lawsuit. The Judge has reserved judgment for a later date as to whether or not the case will be dismissed or proceed to trial. A large crowd of LGBT rights supporters and activists from several US organisations joined six of the Ugandan representatives who arrived from Uganda especially to attend the hearing On Monday.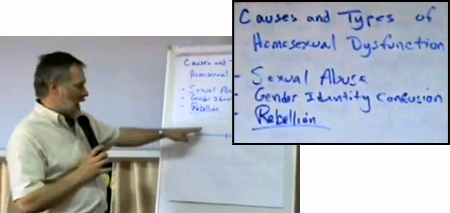 Scott Lively speaking at the infamous anti-gay conference in
Kampala, Uganda in March, 2009
The lawsuit, filed by the advocacy group Sexual Minorities Uganda in March 2012 with the help of the New York-based Center for Constitutional Rights (CCR), alleges that Lively's actions over the past decade, in collaboration with key Ugandan government officials and religious leaders, are responsible for depriving LGBTI people in Uganda of their fundamental human rights based solely on identity.
Under the under the Alien Tort Statute (ATS), a provision under US law, foreign citizens can sue Americans for crimes against humanity. The centre notes that this is the first known Alien Tort Statute case seeking accountability for persecution on the basis of sexual orientation and gender identity.
The suit claims that Lively's actions resulted in the persecution, arrest, torture and murder of gay men and lesbians in Uganda.
Lively, who lives in Springfield, Massachusetts, is the President of the conservative evangelical Abiding Truth Ministries, which is classified by the US-based Southern Poverty Law Center as a hate group. Lively has said the gay rights movement is "the most dangerous political movement in the world."
According to a factsheet on the case published by the CCR, Lively is known to have traveled to Uganda, and met and worked with key government officials, parliamentarians, and religious leaders to craft the anti-gay agenda since his first visit to the country in 2002.
At a three-day conference in Uganda entitled Seminar on Exposing the Homosexual Agenda in 2009, Lively alleged the risks a gay movement may pose by linking child rape with homosexuality: "when [homosexuals] see a child that's from a broken home, it's like they have a flashing neon sign over their head." He posted a report after his visit to Uganda in 2009 describing how he addressed groups of lawyers, members of Parliament, universities, secondary schools and Christian leaders about "the 'gay' agenda".
Lively has reportedly contributed to the Anti-Homosexuality Bill, commonly known as the "Kill the Gays Bill. First introduced to Parliament in 2009 and reintroduced in February 2012, the bill seeks to impose the death penalty for "aggravated homosexuality," defined as when one of the participants is a minor, HIV-positive, disabled or a "serial offender". "Serial offender" includes those who have been convicted a second time of consensual sex between adults; those that "promote homosexuality" can be imprisoned for up to seven years; LGBTI Ugandans living abroad can be extradited and persecuted. The bill also criminalises failing to report someone's homosexual orientation, even if that person is a family member, child, neighbor, or close friend.
The bill is sponsored by David Bahati, a Member of Parliament in Uganda who is affiliated with The Family, a right-wing U.S. religious organisation that provides a conservative fellowship forum for political decision makers. Bahati has reportedly attended the 2009 Uganda anti-gay conference and consulted at length with Lively about the contents of the bill.
Vince Warren, executive director of the Center for Constitutional Rights, wrote on a blog on washingtonpost.com: "No one has done more to orchestrate this situation than Scott Lively. Since 2002, he has worked systematically to strip away human rights protections from LGBT people in Uganda and elsewhere around the world, to silence them and make it impossible for them to organize and defend their rights. While he peddles the usual, age-old lie that LGBT people are pedophiles in order to deliberately provoke the rage that feeds the growing repression and violence, he combines that myth with a new twist, that gays were also responsible for the Holocaust and that Hitler's Germany is what can happen when a gay movement grows unchecked."