Ariff Alfian Rosli, a 28-year-old Malaysian man whose family reported him missing after he stopped contacting them three years ago, has been "found" after pictures of his civil partnership ceremony in Ireland emerged on the Internet last week. The news has made the headlines in Malaysia and criticism of his civil union has been harsh.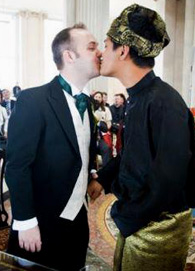 Photo: Facebook
In a set of photos uploaded on Facebook, Ariff is seen wearing a black baju Melayu with headgear, while his spouse – identified in the media as Jonathan – is in a tuxedo. It is not known when the ceremony was held although the photos were uploaded on December 16 – the same day a Facebook "Public Figure" page bearing the man's full name was created.
Ariff originally moved to Ireland in 2003 to study medicine at University College Dublin under a Petronas sponsorship programme. Petronas, which stopped sponsoring Ariff in 2009, is reportedly demanding repayment for the RM890,000 (USD280,000) it paid for his education in Ireland.
According to media reports, his father had lodged missing person reports with the police, Malaysia's Ministry of Foreign Affairs, the Irish and Malaysian embassies in both countries. Ariff's parents have also reportedly made eight trips to Ireland in the past two years but failed to locate him.
Ariff has however told The Irish Times he was not missing, and that the Irish authorities and Malaysian embassy are aware that he is residing in Ireland legally.
Free Malaysia Today, an independent news website, reported on Monday that a NGO, Kepong Islamic Youth Organisation (PBIK), has made a police report "in the name of the Malays against a Malay youth who disgraced the name of our country, religion and race."
"We want to pressure the Higher Education Ministry and government-linked companies which sponsors students for education abroad to ensure that the students' Malayness and Islamic identity are strong," said PBIK chairman Norizan Ali was quoted as saying. "Malaysian Muslims must adhere to the Islamic laws and our country's laws even when they are abroad."
He added that PBIK intends to provide a copy of the police report to the Federal Territory Islamic Affairs Depart¬ment (Jawi) to urge it to take action against the man if he returned to Malaysia. Under Malaysian laws, same-sex sexual relationships are punishable by up to 20 years in prison.
The same report quoted Malaysian ambassador to Ireland Ramli Naam who confirmed that Ariff's whereabouts is known but is unable to reveal the information as it was against Ireland's Data Protection Act.